As the bride's father, you have the honor of making the first toast at her wedding reception. If you have previously written a father-of-the-bride speech, this might not seem overwhelming. However, if this is your first time, you might be a bit flustered.
So, here are some tips for preparing your speech. If you have ever given a best man speech, you might have some idea as to where to start. However, there are some differences to take heed to the following advice.
Frequently Asked Questions
Wedding Speech vs. Wedding Toast: What's the Difference?
Is it OK to read the father of the bride speech?
How long should the father of the bride speech be?
Introduce Yourself And Welcome Guests
The first thing you want to do is introduce yourself. You can start off with a joke if you want, but keep it short and clean!
Next, you want to formally welcome your guests including family members, friends and other esteemed guests, including the groom's parents and officiant. Thank them for coming and sharing in this important occasion.
Hi! My name is (your name), (daughter's name) father. She calls me "Dad", to my face at least, but you can call me ______. I'd like to welcome all of our family and friends as well as ____ and ____ (groom's parents.) as well as the rest of our special guests who took the time to share in this joyous day.
I'd like to thank (officiant) for the moving wedding ceremony that joined (bride and groom) together for eternity.
Share Heart-Warming Stories From Bride's Childhood
Endearing stories about the bride are the heart and soul of the father of the bride's speech. You are one of the few people who has known her for her entire life so undoubtedly you have quite a few tender moments you could share. Also, you could talk about how you felt the day the bride was born and how she changed your life for the better.
Include some funny and touching moments from her childhood and teenage years. Tell her how proud of the woman she is today. Mention how you are happy that she found the love of her life (mention husband here). Also, remember that her best friend may cover some of the same stories in her maid of honor speech so you may want to compare notes with her.

Talk About Your Son-in-Law
Next to talking about your daughter, speaking about your son-in-law is the most important part of your father of the bride speech. Be sure to tell him how you feel about him and how much he means to your family.
You can incorporate some humor as well, but try to keep it heart-warming. You could talk about the first time you met him, or how he has changed your daughter's life for the better. Lovingly and sincerely welcome him to your family.

Add A Funny Story About Couple
At this point, you could include a funny story about the couple. Remember to keep it clean, and nothing too embarrassing. Making the newlywed's blush and giggle is one thing. You don't want to humiliate them or make them uncomfortable on their wedding day.
Funny anecdotes will keep the guests engaged in your father of the bride speech. Perhaps you have a humorous story about the first time she brought him over for dinner. Or maybe something funny from the wedding preparations. Keep it light and appropriate.

Add A Few Words About Groom's Parents
You should always include something about the groom's parents in your speech. They are now part of your family, as you are part of theirs. You will be spending time with them during the holidays, birthdays and other joint family events. And you could even share in the blessing of future grandchildren.
Thank them for sharing in the big day and becoming part of your family, as well as any part they took in the wedding. Congratulate them on the fine job they did raising their son and how happy you are to welcome them all to your family.

Talk About Your Own Love Story With Bride's Mother
Do not neglect to introduce your wife, the bride's mother. Share a brief story about how you met and your lives together. Tell her that you love her as much today as you did on your wedding day.
Thank her for her part in raising your daughter to be the beautiful woman she is today. Perhaps share a story of how much your daughter is like her mother. Spend a moment or two doting on your wife and then tie it into your daughter and her new husband.
Finish With A Toast
In keeping with tradition, your father of the bride's speech should end with a toast. Ask everyone to stand with me and raise their glasses to the happy couple on their wedding day.
The toast itself does not have to belong. In fact, it should not be longer than the speech itself. Just say a few short sentences congratulating the bride and groom and wishing them a happy life together.
Use some examples of father of the bride wedding toasts:
Example 1:
Please stand with me and raise your glass to toast the happy couple. (Bride's name) has been the light of my life for the past 25 years and today I hand her over to (groom's name). I know he will love and cherish her every bit as much as I do a toast to a happy and healthy life full of endless love and laughter!
Example 2:
Please join me in a toast to _____ and _______. (Groom's name), you have become like a son to me, and I am entrusting (bride's name) to you. Cherish every moment you have together. Let us all wish the happy couple a lifetime of joy!
Example 3:
Please raise your glass to the newlyweds. When (bride's name) was only 13 years old she told me that she wanted to marry (groom's name). I watched them grow from happy and carefree teenagers to happy, loving and caring adults. Let's offer a toast to many years of wedded bliss!
Example 4:
When (groom) first showed up at my front door, I never imagined he would be the one to steal my baby's heart. But here we are today, and I couldn't be happier for them. Let's raise our glass to the (bride and groom) and wish them many years of happiness!
Example 5:
Please join my wife and I as we raise our glasses to the beautiful, kind, and loving couple. We welcome you to our family, and we look forward to many years of holiday dinners, family vacations, and late-night phone calls. Cheers to ___ and ___!
Father Of The Bride Speeches: Examples And Template
Father of the bride speeches can be difficult to write, because it's an emotional time for a father, and there is so much you might want to include in your speech However, with a few tips, you should be able to put down a beautiful speech that expresses your emotions perfectly, one that your daughter will be proud of.

Heartfelt Father Of The Bride Speech
#1
Giving heartfelt and emotional father-of-the-bride speeches can really take it out of you. But, if you find the right words, and you aren't afraid to let your emotions show, you should do well.
"I am Allen, Scarlet's father, as most of you know. This is my proudest and happiest moment, watching her today and being able to reflect on all the years I watched her grow up. She was the most beautiful baby, and I'm lucky to have been able to be with her and guide her as she grew into the magnificent woman that she is today. She captured my heart then, and she still holds it now, my beautiful girl, my sunshine. I will always be fortunate to be called your father.
And as I watch her get married today, to such a wonderful young man, I can say that my happiness is full. I can't say that I give the most brilliant father of the bride speeches as I have never had to give one, but I can say this with all confidence. The two of you are about to begin a long journey. One that will be filled with all the love and happiness I have seen between you both, and more. And while on this journey, know that I and your mother will be there on the sidelines, ready to assist with anything that you need to succeed.
May you always be true to each other, and may you always be kind to each other. May you share in all of the burdens all of the joys and all the happiness that this world has in store for you both.
I ask you all to join me in raising a toast to my beautiful daughter and her amazing husband. I wish them a long and happy life together. Love you both to the moon and back."
Funny Father Of The Bride Speech
#2
If humor comes naturally to you, then giving the funny father-of-the-bride speeches would be your forte. And, if you need some inspiration, here is a sample that could be helpful.
Hello everyone, I'm the proud father of this lady right here, Sasha, and the spanking new father-in-law of the handsome man beside her, David. And I would have to say, if any of these names sound strange to you, then you are probably at the wrong wedding.

It was a little difficult writing my speech for today because at first, my wife recommended that I do not say anything embarrassing or stupid, and then late she suggested that I just be myself. Well, that's hard and not confusing at all.

I must say that I have always looked forward to the day that someone would step forward and take Sasha and all her endless demands far away from me and my bank account. And I am so happy David, that you had the courage to do so, good man. In fact, although I question his tastes in football teams, I have never questioned his loyalty to my daughter, and my bank account agrees.

From the first day that I met David and his shiny new braces, I knew that any man who could care for his teeth like that, without shame, would be able to care for my daughter no matter the consequences. I have to admit that we're all glad he's present here today minus those dentures.

My advice to you both today is love and laughter. Although marriage is as serious as a mortgage and should be taken as seriously, just be sure to have fun. Life will bring its ups and downs, but as long as you remember to laugh at each other and with each other through it all, you will succeed.

I give you Sasha and David, the bride and groom.
Short Father Of the Bride Speech
#3
While writing father of the bride speeches may not be a walk in the park, with the right sample father of the bride speeches to guide you, you are sure to succeed. Make your daughter proud on the most special day of her life.
Just like childbirth, marriage marks a new beginning. One that we are overjoyed to witness in our family. From the day you captured my heart as a newborn, to today when I walked you down the aisle, I have never stopped feeling grateful that you call me Papa. I hope that I have always lived up to your expectations, just as your husband will as you begin this journey together.

I am happy for the union of these two families as the [Bride] and [Groom] begin a brand new family of their own. And I am proud that my daughter has grown into this amazing woman and that she met a man who is just as amazing. I love you son. This is my wish that you build your lives together and enjoy a relationship like no other.

I offer you my warmest wishes and congratulations on this beautiful and joyous day. Please join me as we raise our glasses to the bride and groom. May your lives be filled with love and laughter always.
Here is an example of a father of the bride speech to help you with your preparations for your wedding speech.

Save to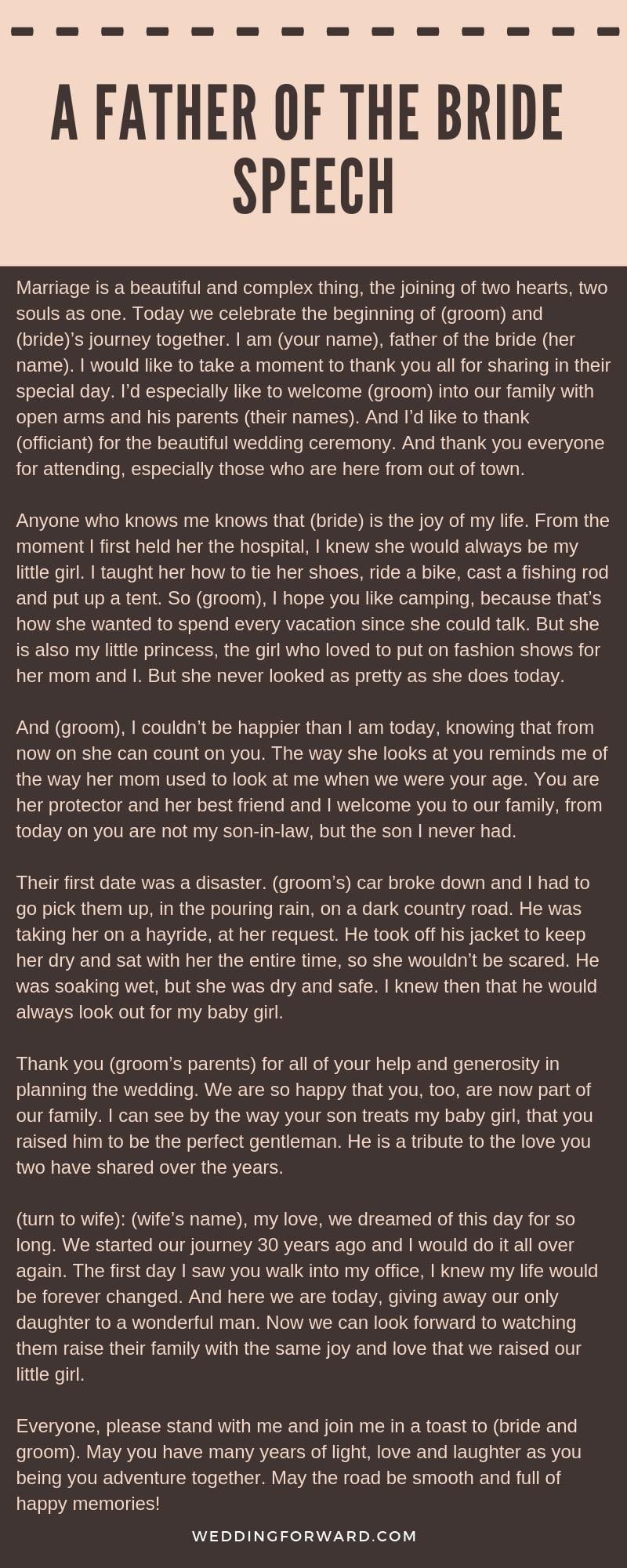 Keep these tips for writing a father of the bride speeches when you are composing your own speech. Take the time to practice in front of your wife, a friend or even a camera. Just speak from the heart and you will be fine!